Halloween. My outfits were always so cheap. Other kids would have crazy getups like full body outfits and the plastic bib Charlie Brown and Mr. Potato Head costumes from the Pathmark on Lancaster. I had a Heman monster mask. Being broke and not planning for halloween will do that to you. But I always had a good time, I wasnt out to impress any pedefiles and other bad little kids. I just wanted the candy. This was 1985 on 3rd St. Wilmington DE. Believe it or not, two years later I caught my first tag with my cousin. We wrote "Rasheim and Rashawn" real big in gold paint off of Cleveland Ave. We didn't know what we were doing at the time, but we saw the tags around the city and they provoked us. I don't think I need to elaborate on the fact we got beat for that one. I didn't want to be a criminal I wanted to be a cop. I wanted to ride around like the Dukes of Hazard (minus the rebel flag) and chase badguys down like Miami Vice, Airwolf, and MacGuyver. I'm getting off track. Damn, that mask was crazy.

I remember all types of stuff that no longer exists in Wilmington. Alot of the earlier photos I took all found their way on the internet and thank god. Because I never saw them again. Alot of older tags have now been cleaned and I since deleted all the photos I once had, bought new computers, and just somehow lost them. Theres stuff I wish I documented, like the 6ft tall BAM wickett off of Lancaster AVE. Hilltop or the RDStar, COD, Burst, and Said slams right off 4th st. on the I-95 underpass pillars. They were really dope, at the top of the fence right at the intersection. Graff is a very impressionable subject matter.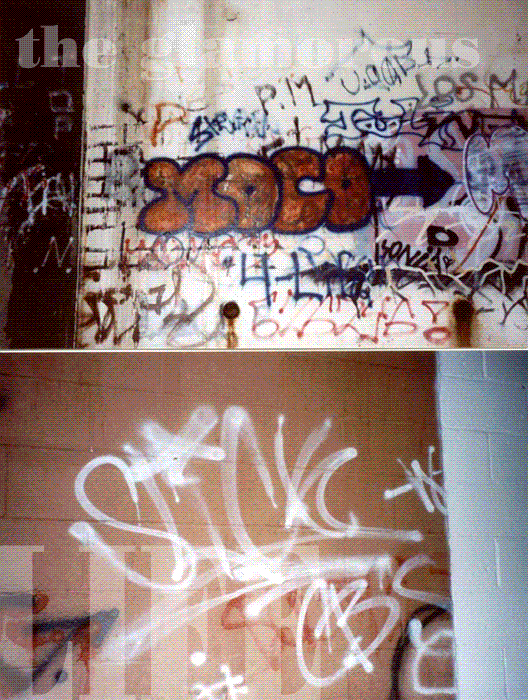 Above Elsmere, Cant get no respect, Bam piece, Moco Toss above, Where's Derm? Down to the left. Below Southbridge, Slick CBS, Burst RHBT main partner. Keep your head up.